Abu Zafar Sirajuddin Muhammad Bahadur Shah Zafar
(
Urdu
:
ابو ظفر سِراجُ الْدین محمد بُہادر شاہ ظفر
), also known as
Bahadur Shah
or
Bahadur Shah II
(
Urdu
:
بہادر شاہ دوم
) (October 1775 – 7 November 1862
Bahadur Shah II
The
royal palace housed some 12,000 retainers of one sort or another, who lived a generally unproductive existence.
Autograph of Bahadur Shah of Delhi dated 29th April 1844.
Prince Fakhr-ud Din Mirza, eldest son of Bahadur Shah II, February 1856.
Sons of Bahadur Shah. On the left is Jawan Bakht, and on the right is the Mirza Shah Abbas.
Zafar was an accomplished Urdu poet and calligrapher.
He wrote the following Ghazal as his own epitaph.
lagtā nahīń hé jī mérā ūjař'é dayār méń
kiskī banī hé ālam-e-nā-pāyedār méń

būlbūl ko pāsbāń se na saiyyād se gilā
qismet méń qaid likhī tthī fasl-e-bahār méń

kaeh do in hassretoń se kahīń aur jā bas'éń
itnī jageh kahāń hé dil-e-dāGhdār méń

ik shāKh-e-gūl pe baiTh ke būlbūl hé shādmāń
kānTe bichā diye héń dil-e-lālāzār méń

umr-e-darāz māńg ke lāye tthe chār din
do ārzū méń kaT gayé do intezār méń

din zindagī ke Khatm hué shām ho gayī
p'hailā ke pāoń soyeń-ge kūńj-e-mazaar méń

kitnā hé bad-naseeb zafar dafn ke liye
do gaz zamīn bhī na milī kū-e-yār méń

My heart has no repose in this despoiled land
Who has ever felt fulfilled in this futile world?

The nightingale complains about neither the sentinel nor the hunter
Fate had decreed imprisonment during the harvest of spring

Tell these longings to go dwell elsewhere
What space is there for them in this besmirched heart?

Sitting on a branch of flowers, the nightingale rejoices
It has strewn thorns in the garden of my heart

I asked for a long life, I received four days
Two passed in desire, two in waiting.

The days of life are over, evening has fallen
I shall sleep, legs outstretched, in my tomb

How unfortunate is Zafar! For his burial
Not even two yards of land were to be had, in the land of his beloved.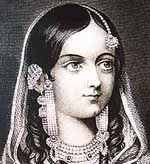 Bahadur Shah Zafar's favorite wife, Begum Zeenat Begum
The
capture of the Emperor in the face of a threatening crowd dealt the mutineers a heavy blow. As a sign of surrender the Emperor handed over his arms, which included two magnificent swords, one with the name 'Nadir Shah' and the other the seal of Jahangir engraved upon it, which Hodson intended to present to Queen Victoria. The swords he took from the Emperor were given to the Queen as a symbol of the Emperor's surrender and are still held in the Queen's Collection
Those convicted of mutiny were
either hanged, or lashed to the muzzles of cannon and blown away
By Subir Bhaumik
BBC News, Calcutta
A descendant of India's last Mughal emperor has been rescued from a life of penury in Calcutta by getting a job with the state-run Coal India.
Madhu is the illiterate great-great-granddaughter of emperor Bahadur Shah Zafar and has been employed to run errands in Coal India's offices.
A letter of employment will be formally handed over to her by the coal minister at a function in Calcutta next month.
She and her mother currently run a tea stall in the slums of Calcutta.
Rehabilitation
"It will be great to have Madhu working for us. Actually, it will be a great tribute to the last Mughal emperor who played a key role during the first war of independence in 1857," Coal India Chairman Partha Bhattacharyya said.
Bahadur Shah Zafar was the last of a long line of Mughal emperors
The move by Coal India follows sustained efforts by a Delhi-based journalist Shivnath Jha, who launched a campaign to rescue her from poverty.
Madhu's cause was one of several highlighted by Mr Jha and his wife Neena in an initiative to
he forgotten heroes of India's independence wars.
Mr Jha told the BBC that he first hit upon this idea when he tried to raise funds for one of India's greatest classical musicians, Bismillah Khan, earlier in the decade.
"We published a pictorial biography of Bismillah Khan and raised some funds. After his death, we institutionalised this movement," Mr Jha said.
Last year, he persuaded India's former Railway Minister Laloo Prasad Yadav to help the descendants of Tantia Tope, one of the leaders of the 1857 mutiny which many Indians say was in fact the country's first war of independence.
'Barely survive'
"Two of his great granddaughters were given employment by the Container Corporation of India on Mr Yadav's intervention," Mr Jha said.
The pair live in poverty in one of the most crowded cities in the world
In 2009 Mr Jha began promoting the cause of Sultana Begum, the poverty-stricken widow of Muhammad Bedar Bakht - a direct descendant of Bahadur Shah Zafar - who died in 1980.
Sultana Begum has five daughters - all are married except for Madhu, her youngest daughter.
"My other daughters and their husbands are poor people, they barely survive, so they cannot help us," she said. "We have been living, but God knows how."
The tea shop run by Sultana and her daughter earns the pair a subsistence income.
Mr Jha said that he hoped to provide the pair with more funds by donating money raised from the sale of a book about Indian prime ministers.
Another industrialist-philanthropist, Madhusudan Aggrawal, owner of Ajanta Pharmaceuticals has also offered help.
"Mr Aggrawal has promised a house for Sultana and a small job for her in a school run by his company," Mr Jha said.
If all works out, Sultana Begum and her daughter can surely look forward to moving out of the slums of Howrah, a decrepit industrial area.
Bahadur Shah Zafar was placed on the throne in 1837. He was the last of a line of Mughal emperors who ruled India for three centuries.
In 1857, when Indian soldiers mutinied against their British masters, Bahadur Shah Zafar was declared their commander-in-chief.
Mr Zafar was exiled to Rangoon after the British crushed the mutiny in 1858, where he lived for five years until his death at at the age of 87.
Prince Yakub Ziauddin Tucy, great grandson of the Mughal Emperor Bahadur Shah Zafar.
Image Credit: Hadrian Hernandez/Gulf News
Dubai: Prince Yakub Ziauddin Tucy, a sixth generation descendant of the last Mughal emperor of India, Bahadur Shah Zafar, and his family are upset by factual errors in the Bollywood movie Jodhaa Akbar.
The prince, who is on a private visit to Dubai, has filed a petition with the Supreme Court of India that the name Harkha Bai should be used in the movie instead of Jodhaa, so that the emperor Akbar and the Mughal dynasty will not be defamed.
The movie Jodhaa Akbar was produced and directed by Ashutosh Gowarikar. It tells the love story of Akbar and Jodhaa Bai.
"Akbar's reign is looked upon as the golden period of India. The movie shows Jodhaa Bai as Akbar's wife, which is incorrect.
"Jodha Bai was his daughter-in-law and wife of Prince Salem, who was known as emperor Jahangir.
"We as descendants of the Mughal dynasty will not accept the distortion of historical facts."
According to him, Akbar had four wives.
He got married to all of them when he was between 14 and 20 years old. His first wife was Ruquiya Begum, while his fourth wife was Harkha Bai, the daughter of Raja Bhasmal Kachwaha of Amer.
"Akbar did not marry Jodhaa Bai, the daughter of Mota Raja Udai Singh of Jodhpur. The truth is that Jodhaa Bai was born in 1572 and married to Akbar's son Jahangir.
Animosity
"The movie also depicts animosity between Mughals and the Rajputs, who are Hindus, which is also not true at all.
"There was a rock solid friendship between the Mughals and the Rajputs during Akbar's reign. The director distorted history to make money.
"We want future generations to learn a history of India that is based on facts, and not one that is twisted in the movies.
"Even the Rajput Sabha has moved a petition in the court against factual errors in the movie.
"If we do not raise our concerns it won't be long before we have a producer bringing out a Bollywood movie that is a love story about Mahatma Gandhi."
Today there are 50 members of the Mughal dynasty who live in the south Indian state of Hyderabad. The family members have all been given the titles of prince and princess by the government of India. This is also mentioned in their travel documents.
Tucy serves as the president of the Mughal Emperors Family Society and the managing director of the Mughal Educational Trust.
He has been appointed as the Mutwalli, or caretaker, of Mughal emperor Mohiuddin Mohammad Aurangzeb Alamgir at Khuldabad, located in the district of Aurangabad.
Tucy has also urged the government of India to confer a title of the First Freedom Fighter of India on Bahadur Shah Zafar, who was defeated in an 1857 mutiny by the British. Zafar was imprisoned in Yangon in Myanmar.
His grave is also there and a tomb was erected.
here on a boat by the banks of the river Hoogli in Calcutta, just before he is about to be exiled to Burma.
Model of the Bunglow in Rangoon (British Burma), where Bahadur Shah Zafar II was kept in his last days (during exile)
HOMAGE: President A.P.J. Abdul Kalam pays homage at the Bahadur Shah Zafar's mazar in Dagon township of Yangon on Thursday. — PHOTO: PTI
For while Bahadur Shah Zafar was exiled to Rangoon and died there, Myanmar's rebellious King Thibaw was sent to Maharashtra where he died. There had been a proposal to shift the remains of Bahadur Shah Zafar and that of Myanmar's King Thibaw
Thiba palace ratnagiri
but the leaders of the two countries had felt that these shrines were part of each other's shared historic and cultural legacy and should be maintained at their present locations.
Incidentally, King Thibaw's great-grandson Soe Win, now Deputy Director-General of Myanmar's Ministry of External Affairs, was present to receive Mr. Kalam at the airport.
An archival film based on the anonymous Hyderabad based family of 80-year old Begum Laila Umahani, 4th generation direct descendent of the last Moghul Emperor Bahadur Shah Zafar and first wife Ashraf Mahal. A rare glimpse into their present lacklustre lives, revealing what happened to Zafar's progenitors following his exile to Burma (Myanmar) by the British, after the Sepoy Mutiny of 1857.
Identity crisis... .the royal kind
Begum Laila Umahani, said to hail from the family of Bahadur Shah Zafar, is living a life of obscurity with her two sons. Film-maker Arijeet Gupta convinced her to talk of her pedigree for "The Living Moghuls", a documentary on the descendants of the Moghuls. On the other hand, we have Pakeeza Sultan Begum asserting her case as the last known direct descendan
HE SCOOTS of to buy vegetables, leave his children at a local school and lives the life of a common man. He is Ziauddin Tucy. His mother tells fairy tales to her grandchildren. But those tales do not constitute fairies, who help people in their moments of distress. They talk of Moghuls, their grandeur, the last Moghul Emperor Bahadur Shah Zafar and his four wives till the period of what is called India's First War of Independence - the Mutiny of 1857. All these not because the children have inclination for history of Moghuls but because their grandmother herself is said to be the last surviving member and direct descendant of Bahadur Shah Zafar and his first wife, Begum Ashraf Mahal.
Eighty-year-old Begum Laila Umahani, who lives in Asmangarh, a small city in Hyderabad, is this grandmother. She narrates the glorious family history to her grandchildren, knowing that it won't have any takers if she goes to tell it to people beyond the periphery of her small house.
But Begum Laila Umahani helps tracing it when she reveals that after Bahadur Shah Zafar's exile to Burma by the British in 1857, his son Mirza Quaish - the first generation -- managed to save his life and fled to Kathmandu. After he secretly came back to India, he was given shelter by Maharana of Udaipur. His son Mirza Abdullah -- the second generation -- again a fugitive, went to Nagpur and then Aurangabad and finally Hyderabad. Here, Nizam of Hyderabad helped him. His son Mirza Pyre later married Habeeb Begum, hailing from the family of the sixth Nizam of Hyderabad. One "Habeeb Mahal" near Char Minar in Hyderabad, belongs to her which is occupied by one family and they have moved High Court for its possession. Begum Laila Umahani, daughter of Mirza is the fourth and only surviving Moghul from the family.
Begum Laila Umahani: Waiting for recognition.
Begum Laila now lives in a rented house in Aamangarh with her two sons, Ziauddin Tucy and Masiduddin Tucy -- the fifth generation. Her husband died earlier. While Ziauddin Tucy is retired marketing supervisor from Andhra Pradesh Government, Masiduddin Tucy is a food consultant in Welcome Group of Hotels in Hyderbad.
The family after several futile approaches made to Indira Gandhi and subsequent governments in Delhi, preferred to take a backseat "Who will listen to me now? Instead they will mock so it is better to remain silent to keep our dignity intact," Begum Laila says in the documentary.
Pakeeza Sultan Begum: known direct descendant of Bahadur Shah
EVEN AS Begum Laila Umahani fights for recognition from the Government, she has to encounter another battle of words and letters - from Pakeeza Begum, claimed to be the only direct descendant of Bahadur Shah Zafar. A resident of Neeti Bagh in New Delhi -- her ancestral house Chandni Mahal is in the Walled City -- Begum Pakeeza denies that Begum Laila is a direct descendant of the last Moghul Emperor. "The entire Delhi knows that only I am only the direct descendant of the king and not she because only the heir apparent - Vali Ahad -- was supposed to be one and Mirza Qwesh -- whom she refers to as her forefather -- was never a crown prince as reported in a Delhi daily earlier. He wanted to be one and to do that he also accepted the humiliating conditions of the British but never succeeded. While he was only attempting to become one, the 1857 Mutiny broke out. My great grandfather Mirza Fatehul Mulk was the heir apparent."
She narrates the historical background that she says is found in record books too. It is reported that historians Maheshwar Dayal and Tara Chand also verified the same in their books. "Mirza Fatehul Mulk Bahadur alias Mirza Fakhruh was appointed the heir apparent in 1853. At the time of Mutiny, the son of Mirza Fakhruh, Mirza Farkhunda Jamal was only four or five year old. When Major Hudson killed the sons and grandsons of Bahadur Shah Zafar at Khooni Darwaza, Delhi on Bahadur Shah Zafar Marg, and soon after this news broke out, the nurse - Anna -- of Mirza Farkhunda Jamal took the child secretly without even informing the family because those who were responsible for the Mutiny were among the family only. For years, she did not reveal his identity and nurtured him by doing different work at different places.
That is how she managed to save the last successor."
Begum Qamar Sultan with younger brother Hamid Shah in royal costume, 1963.
Some time after the Mutiny the British announced that there would be no killings and punishment, Anna brought the child back to the mother. The British Government released political pension in favour of Mirza Farkhunda Jamal as the heir apparent. After the death of Mirza Jamal, the pension was received by his sons and daughters -- Qamar Sultan Begum -- daughter of Mirza Jamal who kept receiving this share even after Independence. She refused to take it sometime after the Independence saying now we are free citizens and everyone is equal in this democratic country. Sultan Begum died in June 1993. She had two daughters, Begum Tahira Sultan and Pakeeza Sultan Begum. The former is settled in London while the latter lives in Delhi and is also an ex-director ICCR and an expert on Africa.
She questions the authenticity of Begum Laila's statements: "Why was Mirza Qwesh running away even after the Mutiny? Despite the fact British announced that there would be no killings? Who was he afraid of? The British? Who, as her statements go that he was helped by the Indian soldiers of British Army to flee to Kathmandu? There were no Indian soldiers in British Army and even if there had been any, they were British soldiers and not from the King's Army."
She contends: "He was running away from his own people who got to know of his schemes and policies that he accepted the Britishers' humiliating condition to become the successor of the Moghuls."
The lady argues: "I don't have any problem if she gets any help from the Government but she should not disturb the lineage by giving wrong statements." She also expresses regret that without going to history books and records with the Government Arijeet Gupta went ahead to make his documentary film.