Mahatma Gandhi in 'Gandhi Cap' , 1920
The Gandhi cap (Hindi:

गांधी टोपी

) is a white coloured cap, pointed in front and back and having a wide band. It is made out of khadi. It takes its name after the Indian leader Mahatma Gandhi, who first popularised its use during the Indian independence movement. Worn commonly by Indian independence activists, it became a symbolic tradition for politicians and political activists to wear it in independent India
Similar caps of black colour were adopted as uniform by the activists of the
Hindu Mahasabha
and the Rashtriya Swayamsevak Sangh.
Nationalist leader Subhash Chandra Bose wore a khaki, brown coloured cap
of the same design to symbolise his militarist convictions and generalship of the Indian National Army.
HISTORY:-
Caps of similar design and material have been worn throughout history by the people of Gujarat,Uttar Pradesh, Rajasthan, Bihar, West Bengal, Maharashtra, Karnataka and other parts of India.
Prisoners in South African prisons classified as "negroes" (a category into which Indians fell while Gandhi was in South Africa) also were required to wear similar caps in prison. Gandhi's close friend Henry Polak cites
Gandhi's time in South African jail, where he was classified as a "negro" and thus required to wear such a cap, as the genesis of the Gandhi Cap
The first generation of post-independence Indian politicians were almost universally members of the freedom struggle. Gandhi's death in 1948 gave an emotional importance to the
Gandhi cap
, which was regularly worn by Indian leaders like
Jawaharlal Nehru
,
The Gandhi cap as worn by Jawaharlal Nehru.
India's first
Prime Minister
. Succeeding prime minister such as
Lal Bahadur Shastri
would continue the tradition
DABBA WALAS OF BOMBAY/MUMBAI CONTINUED THE TRADITION
Mumbai's lunchbox delivery men who became famous after business leaders and royalty turned the spotlight on them, are building up their image by working on their skills.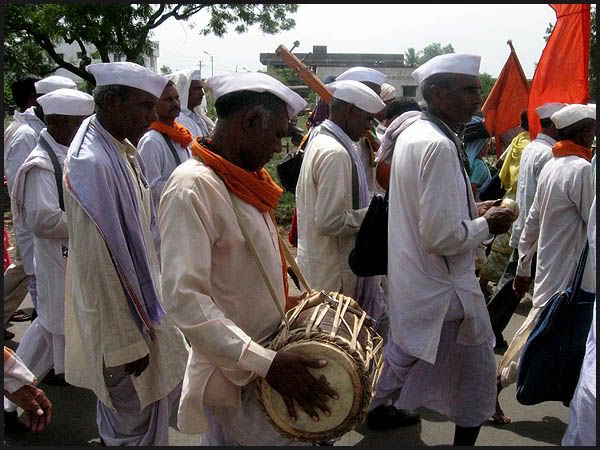 Drums and cymbals,
these folks are wearing traditional clothing worn by rural people and farmers in western India,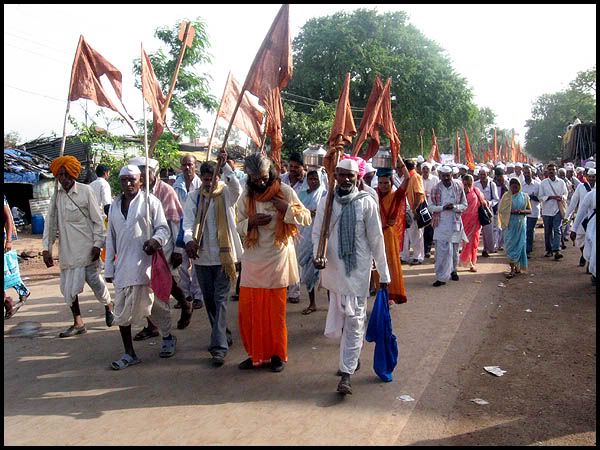 A 'Dindi'.-
Walking with the warkari's-
This walkathon is usually soon after the monsoon has set in and so its quite pleasant for the most part.
The true participants belong a to a non denominational sect called the 'Warkari's". This sect was formed in response to traditional caste based Hinduism and other mainstream religions by a man ( now deemed a saint) Gnyaneshwar( try and pronounce that...). His followers have continued this tradition, of walking from a temple in a town called Alandi to another holy site called Pandharpur about 250 kms southeast of my city Pune.
Villagers WITH THEIR NORMAL WEAR GANDHI CAPS AT A PROTEST RALLY [NOT CONNECTED TO ANNA]GANDHI CAP WAS MADE POPULAR IN VILLAGES;BY MAHATMA GANDHI; AND IS STILL POPULAR IN MAHARASHTRA VILLAGES;AS ANNA IS ALSO FROM ONE OF THESE VILLAGES;SO HE WEARS THE CAP .THERE IS NOTHING GREAT OR NEW IN WEARING OF SUCH CAPS IN MAHARASHTRA
Re-emergence of the Gandhi cap[IN THE CITIES OF INDIA]
In 2011, the Gandhi cap once again rose in popularity in India after Anna Hazare